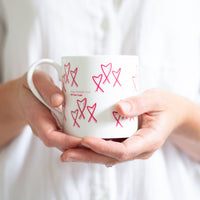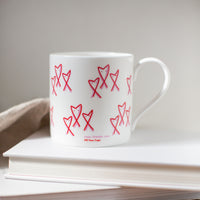 'Fill Your Cups' Mug for Breast Cancer Awareness Month
Hope, Strength, Love

When my oldest and dearest friend, Alex, was diagnosed with Grade 3 Breast Cancer I watched on as her world came shattering down around her.  She learned very quickly what she was facing.  Her journey would be filled with Chemotherapy, major surgery and Radiotherapy.  Alex, my sister Lucy and I have been so close since I have a memory.  When her world shook, so did ours.  We have an exceptional bond and have seen each other go through many things, but nothing like this.  Alex lost her hair, experienced darker times than we will ever truly know and did all of it with a level of resilience and tenacity even I did not know she had.

I knew from the outset I had to do something to honour Alex's strength and unparalleled determination throughout her year-plus battle with this truly cruel disease.  I thought I might run a marathon, but I don't really like running!  Instead I turned to the thing I know I enjoy more, my sketch book.  I had in mind a symbol of love and hope, but I also wanted to represent Alex in some form.  The repeat pattern of the three hearts depicts Alex in the centre and either side of her she is flanked, shielded, protected by my sister Lucy and I.  Some might think the dots represent eyes in the face, in fact they are there to proudly represent our breasts.
Like all our English china products, this exclusive mug is manufactured and decorated in our factory in Stoke on Trent, and showcases the very best of British skills of producing fine china.  The mug is a generous size and the fine quality means your comforting cup will stay warmer for longer.

Hope, Strength and Love are the three words I chose to honour the integrity and character of Alex.  Fill your cups is play on the comfort a warm drink can bring one when facing times of difficulty.  It is also a play on filling your bra cups with boobs of whichever form they take, individual to each person and the story they might have to tell.

1 in 7 UK females will be diagnosed with breast cancer in their lifetime. 23% of breast cancer cases in the UK are preventable.  That is why 100% of all Retail profit from our £25 Fill Your Cups mug will go to the Future Dreams Breast Cancer charity. 
Thank you so much for your support in this project, Jo x

A quote from Alex;

I was 39 and in the middle of the Covid Pandemic when my world turned upside down with a Grade 3 Breast Cancer Diagnosis.  Cancer at any time is life shattering but cancer in a pandemic felt like a double blow.  The carefree summer I had planned was swiftly reimagined by a treatment plan with chemotherapy, surgery and radiotherapy all on the menu.  The first lesson I learnt was that everyone's breast cancer journey is different and yet we all need one thing to get through and that is support.  Support from your medical team, support from family members and support from friends.  Be it the kindly twinkle of my nurse's eye or gentle squeeze of my hand when I needed it, the medical teams who look after Breast Cancer patients worldwide are a very special sort indeed.

When Jo first showed me her Breast Cancer Awareness mug I saw depicted for the first time what I had felt even during my lowest points.  The three hearts were instantly recognisable as 'Me' in the middle flanked by my oldest friends Jo and her sister Lucy.  At every twist and turn of my treatment they were there at the end of the phone, on a FaceTime and when finally allowed offering up some giant sized hugs.  It is a true story that whilst isolating for a week on my own pre-surgery I glanced out of the window to see them camped out the other side of the street with hot mugs of tea in hands and smiles on their faces!

Please know that by purchasing one of these incredible mugs you will also be donating to the Future Dreams Breast Cancer Charity, for which I will be eternally grateful.

Lastly, if there is one thing you do today it is to check your boobs!
375ml | Height 9cm | Diameter 8.5cm
FREE UK standard delivery on orders over £75 Arrives carefully packed in our signature bright and brilliant bespoke gift box.
All Jo Deakin fine bone china is proudly Made in England.