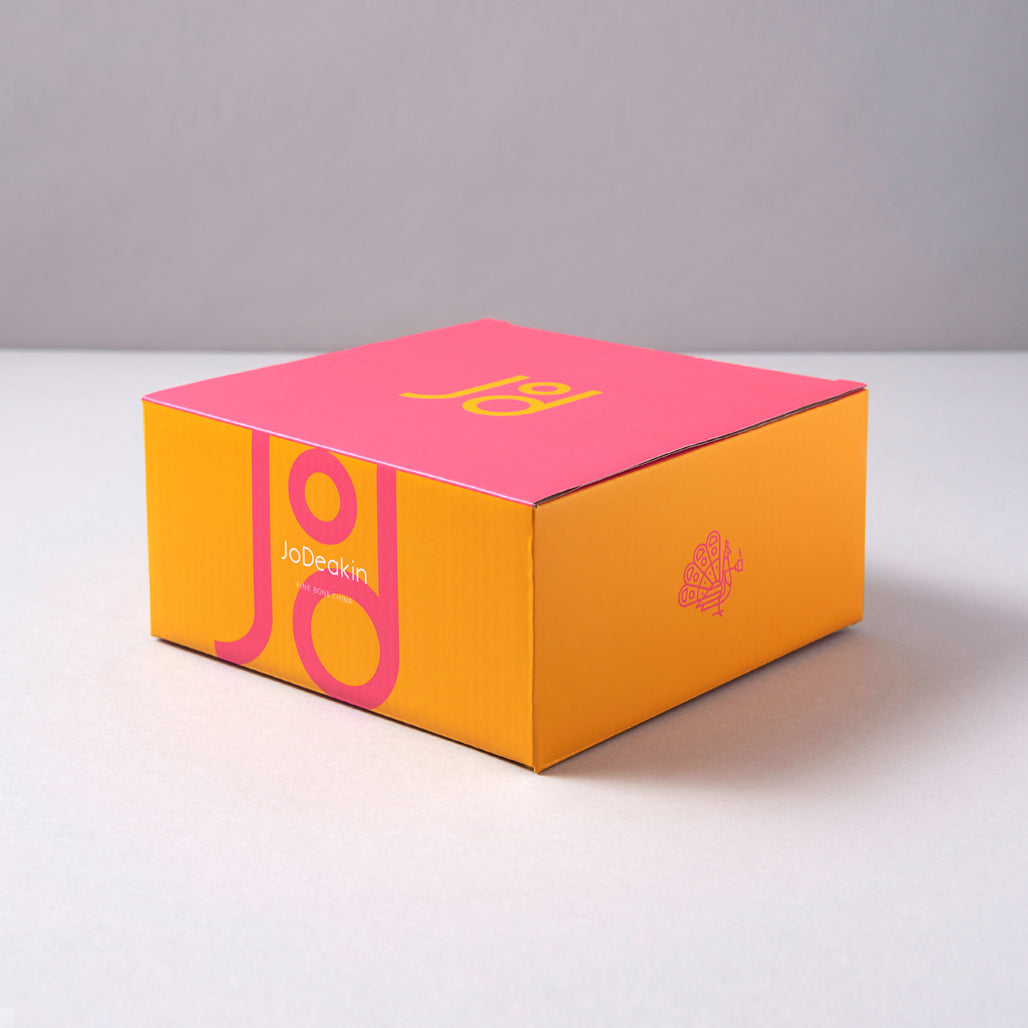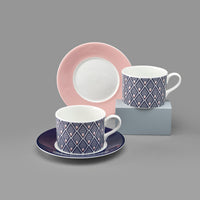 Gatsby Cup & Saucer in Blue & Blush Pink [Blue Saucer]
Art Deco (or Deco for short) first appeared in France just before WWI.  It's style encompassed visual arts, architecture and design and had huge influence on the design of buildings (think of the Chrysler Building in NYC), furniture, fashion, cars, trains and everyday objects.  It combined modern styles with fine craftsmanship and rich materials and represented luxury, glamour, exuberance and faith in social and technological progress!
As a lover of all things symmetrical, the Deco era for design, style and pattern, to me, is the epitome of high-end luxury balanced with punch and flare.  It would speak to me as it combines bold geometric forms with stunning colours, and it is so appealing on the eye.  Our Gatsby design encapsulates the Deco era of geometry  combined with a little Jo D contemporary style.

This fine bone china cup and saucer is a brand new shape and design to add to our Jo D product list.  It will sit perfectly under your coffee machine to make a special mid-morning treat and also makes a stunning set when mixed with the blush pink saucer.  It is made of the finest quality bone china which not only achieves the best overall look and feel, but also keeps your beloved comforting brews warmer for longer. 

The products are crafted from start to end under one roof in Stoke on Trent and showcases the very best British skills of manufacturing fine bone china.  A set of these cups and saucers would make the most stunning end to a dinner party for coffee and would work equally well for Afternoon Tea.

Mix + Match
All our colours are entirely bespoke to the Jo Deakin colour palette.  This colourway is a powerful yet sophisticated combination.  The vivid blue is deep and rich, whilst the blush pink is soft, light and calming.  The contrast is stunning and would look so pretty in a kitchen with any of these colours running through it.
Our fine bone china cup & saucers come carefully packaged in our signature bright and brilliant bespoke box, making it the perfect gift to give to someone special without any extra wrapping needed!
250ml | Cup Height 6cm | Cup Diameter 8cm | Saucer Diameter 15cm
FREE UK standard delivery on orders over £75 Arrives carefully packed in our signature bright and brilliant bespoke gift box.
All Jo Deakin fine bone china is proudly Made in England.