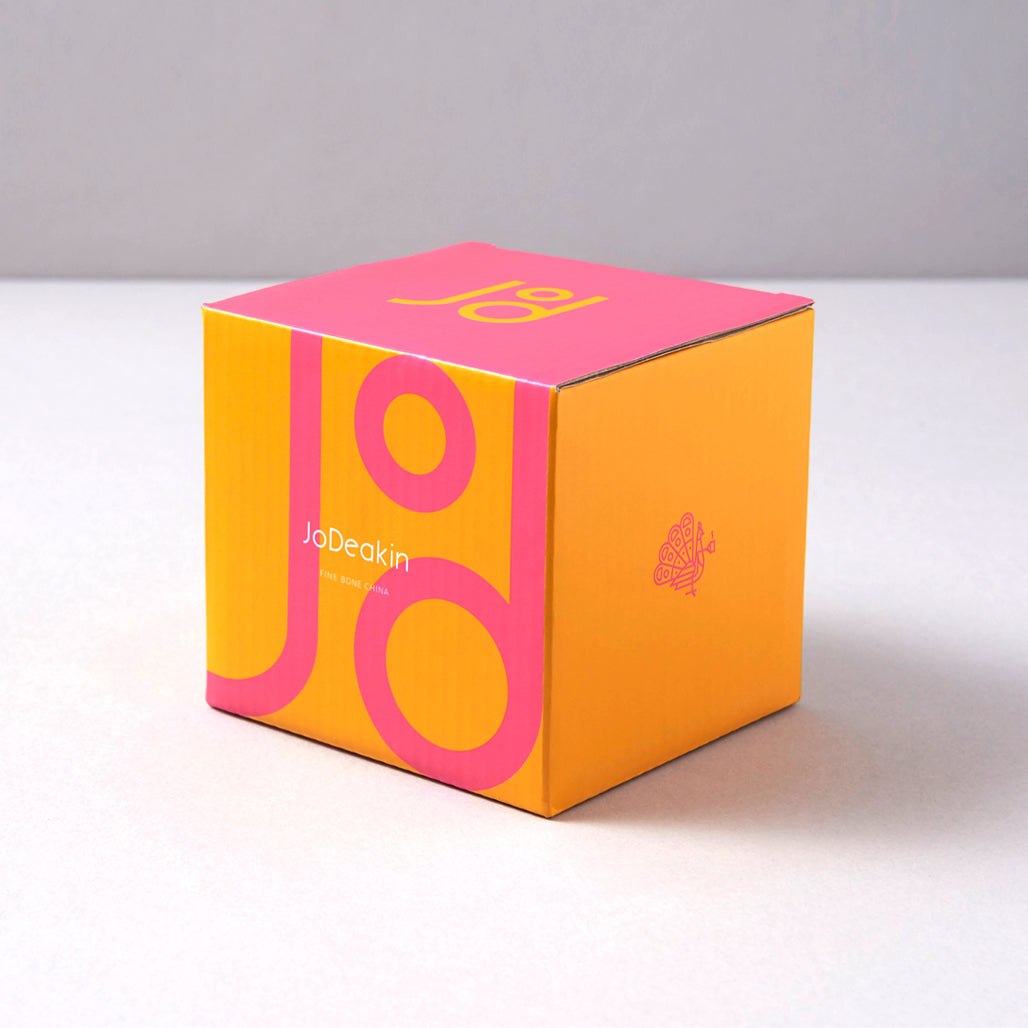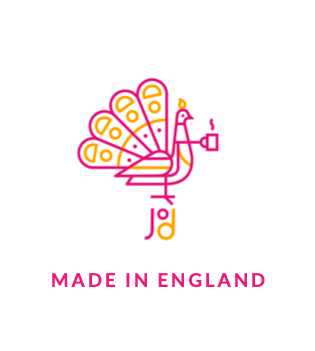 Peacock Mug in Blue & Blush Pink
It was only a matter of time before our resident Jo D motif made it's debut into one of our designs.  The Peacock symbolises so many things in so many varying cultures.  From rejuvenation and beauty to truth and kindness. 
I favour the spirit animal symbolism, as the Peacock is believed to come from a place of honor and integrity.  They are flamboyant and show beautiful colours in such a magical way. 
It is said that people with this spirit animal are entirely trustworthy, self-confident, and are good at discerning the truth in all matters. They are always willing to walk their talk. Moreover, they revel in being the centre of attention.  So with all that said, it seemed like it was time for our take on the stunning Peacock feather to take centre stage!  This is of course not without the Jo D signature symmetry and complimentary colour scheme.

The product is crafted from start to end under one roof in Stoke on Trent and showcases the very best British skills of manufacturing fine bone china.  The mug size is generous and provides the perfect comforting cup.
The mug is made of the finest quality bone china which not only achieves the best overall look and feel, but also keeps your beloved comforting brews warmer for longer.
Mix + Match
All our colours are entirely bespoke to the Jo Deakin colour palette.  This colourway is a powerful yet sophisticated combination.  The vivid blue is deep and rich, whilst the blush pink is soft, light and calming.  The contrast is stunning and would look so pretty in a kitchen with any of these colours running through it.

Our fine bone china coffee and tea mugs come carefully packaged in our signature bright and brilliant bespoke box, making it the perfect gift to give to someone special without any extra wrapping needed!
385ml | Height 9cm | Diameter 8.7cm
FREE UK standard delivery on orders over £75. Arrives carefully packed in our signature bright and brilliant bespoke gift boxes.
All Jo Deakin fine bone china is proudly Made in England.